April 26, 2022
Regency Core Revealed As The Most Popular UK Fashion Trend
The Met Gala is back with a bang this year, putting the disruption and delays of the last two years well and firmly behind it! And for those lucky enough to receive an invitation, their focus and efforts will turn to the all-important dress code. For the rest of us, we can only look on and admire the most legendary, daring and momentous moments in fashion from a distance, oohing and aahing over the red carpet looks and wondering how we can recreate them for less.
The elegant event marks the opening of the Costume Institute's annual exhibition at the Metropolitan Museum of Art in New York and will see the rich and famous strut their stuff in their own interpretations of this year's dress code: Gilded Glamour.
With arguably the greatest night in fashion just weeks away, new research by Fenwick has analysed 2022 search data, to discover the looks that people are still gushing (or gagging!) over, from each Met Gala over the last ten years, as well as which fashion trends are on the rise.
The fashion retailer has discovered that Kim Kardashian's Met Gala looks remain the most momentous. Search data highlights that the reality star, socialite and businesswoman has been the most memorable attendee of the Met Gala throughout the past decade.
The most memorable look of every Met Gala in the last decade
2012 – Gwenyth Paltrow, Prada (5520 searches)
2013 – Kim Kardashian, Givenchy (6240 searches)
2014 – Beyonce, Givenchy (9600 searches)
2015 – Rihanna, Guo Pei (38,880 searches)
2016 – Madonna, Givenchy (32,280 searches)
2017 – Kim Kardashian, Vivienne Westwood (98,760 searches)
2018 – Chadwick Boseman, Atelier Versace (131,760 searches)
2019 – Kylie Jenner, Versace (199,320 searches)
2021 – Kim Kardashian, Belenciaga – Demna Gvasalia (1,693,200 searches)
Equivalent to annual search volume in 2022*
This year, Kimmie K and her VIP clan have been given a gift of a dress code that invites them to be bold and daring in their fashion choices – something that Kim has never shied away from! From her floral Givenchy maternity number in 2013, to her most recent all black Balenciaga appearance in 2021, the fashion icon loves to give her critics something to speak about.
Further research from the experts at Fenwick highlight that eyes will be on Kim Kardashian's take on gilded glamour. Searches for "Kim Kardashian Met Gala 2022" have started climbing since the event has been announced, and the icon is already the most searched for celebrity in relation to the event.
Regency core inspiration
If in doubt, attendees need look no further than the beloved Netflix series, Bridgerton, for all the Regency core inspiration they will need to fulfill the glam dress code!
This fashion trend is ready to return once again, giving us all the opportunity to embrace gilded glamour by hitting the high street. Although you might not fancy slipping on an empire-waisted gown, there are endless ways to add the grandeur and opulence of Met Gala style into your wardrobe.
Fenwick Department Store reveals a 186.92% increase in online demand for regency fashion over the past year, based on an analysis of recent UK online search trends. The study highlights a considerable popularity spike in the lead up to the second season of the Netflix hit, Bridgerton, that aired Friday 25th of March, with searches for regency dresses up 175% since December.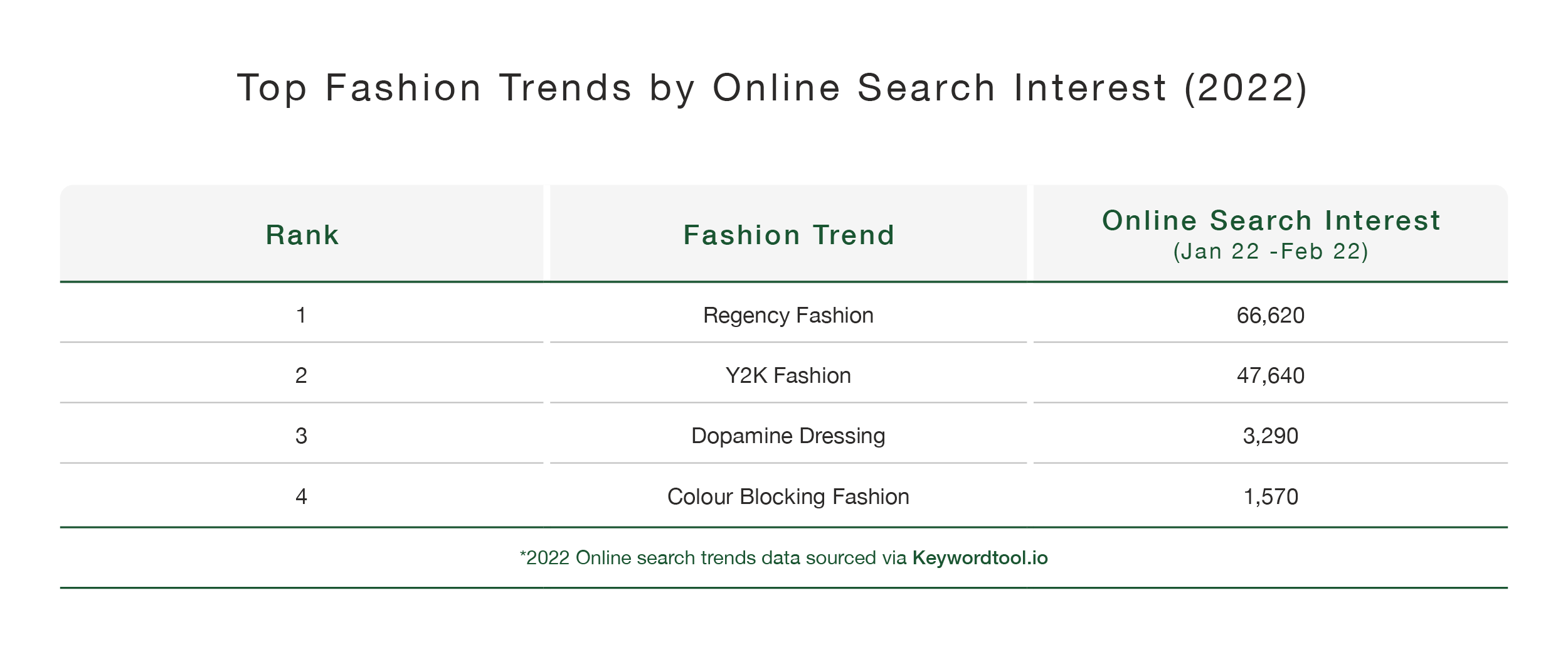 With the popularity of regency fashion search terms almost tripling since the beginning of 2022 (+194.80%), the new research reveals British fashion enthusiasts are ready to fully embrace the so-called "regency core" trend with all its frills and ruffles.
Don't be late to the party
Why not throw your very own Met Gala-worthy soiree and watch all the glitz and glam from the comfort of your home? Take the opportunity to introduce some of these elegant fashion choices into your wardrobe and put an end to your Regency style craving.
Experiment with different variations, starting with a key accessory and building up to a full Regency core party outfit. Shimmering gold and bejeweled earrings? Check. Adorned with feathers, bows and frills? Check. Silks, satins and velvets in rich tones? Check. You will go to the ball!